Stainless Steel Seamless Buttweld Fittings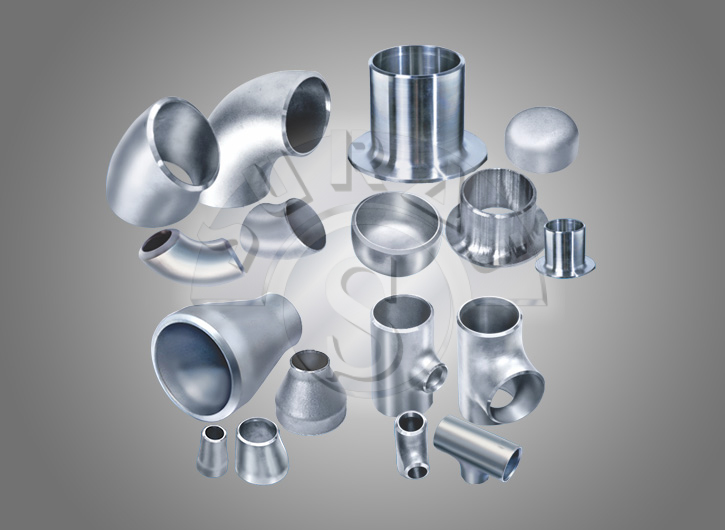 Suraj manufactures stainless steel seamless buttweld pipe fittings according to ANSI/ASME. Our stock includes from 1/2″ to 12″ & range includes schedule 5S to schedule XXS.
We manufacture finest quality of buttweld pipe fittings in diverse shapes like Elbows, Tees, Reducers, Stubends & Endcaps at affordable market rates.
All Suraj's buttweld fittings are according to ASME B16.9, annealed & quenched, bevelled ends according to ASME B16.25, hardness according to NACE MR0175.
Suraj's ASME buttweld fittings are certified according to EN 10204/3.1, EN 10204/3.2 & also available with on-site Third Party Inspection.
Outside Diameter
1/2 NPS to 12 NPS ( 21.30mm To 323.90mm )
Wall Thickness
Sch 5s, Sch 10s, Sch 40s, Sch 80s, Sch 100, Sch 120, Sch 140, Sch 160, Sch XXS ( 1.65mm to 25.40mm )
Grades
TP-304, 304L, 304H, 304N, 304LN 316, 316L, 316H, 316Ti, 316N, 316LN, 310, 317, 317L, 321, 321H, 347, 347H


---

UNS S 31260, 31500, 31803, 32205, 32304, 32750, 32760


---

TP- 405, 410
Specifications
ASTM, ASME, DIN EN
Applications

Oil & Gas Sectors
Onshore and Offshore Platforms
Chemicals and Petrochemicals Industries
Refinery Plants
Power Plants
Energy and Power Generations
Fertilizer
Pharmaceutical Plants
Nuclear Power Plant
Desalination Plant
Cryogenics Applications
All Major Process Industries